Due to recent quarantine restrictions, companies have moved to online collaboration software and cloud-based applications. Despite the benefits of convenience and increased productivity from the use of cloud computing services, user accounts for these services are still vulnerable. Hackers will specifically tailor attacks to impersonate these platforms in order to access sensitive business data.
In this attack, attackers are impersonating a notification from Amazon Web Services in order to steal the credentials of employees.
Summary of Attack Target
Platform: Microsoft Office 365
Email Security Bypassed: FireEye
Victims: Employees
Payload: Malicious Link
Technique: Brand Impersonation
Overview of the Amazon Web Services Attack
This email impersonates an automated notification from Amazon Web Services (AWS). The anchor text of the links appear to be credible AWS links.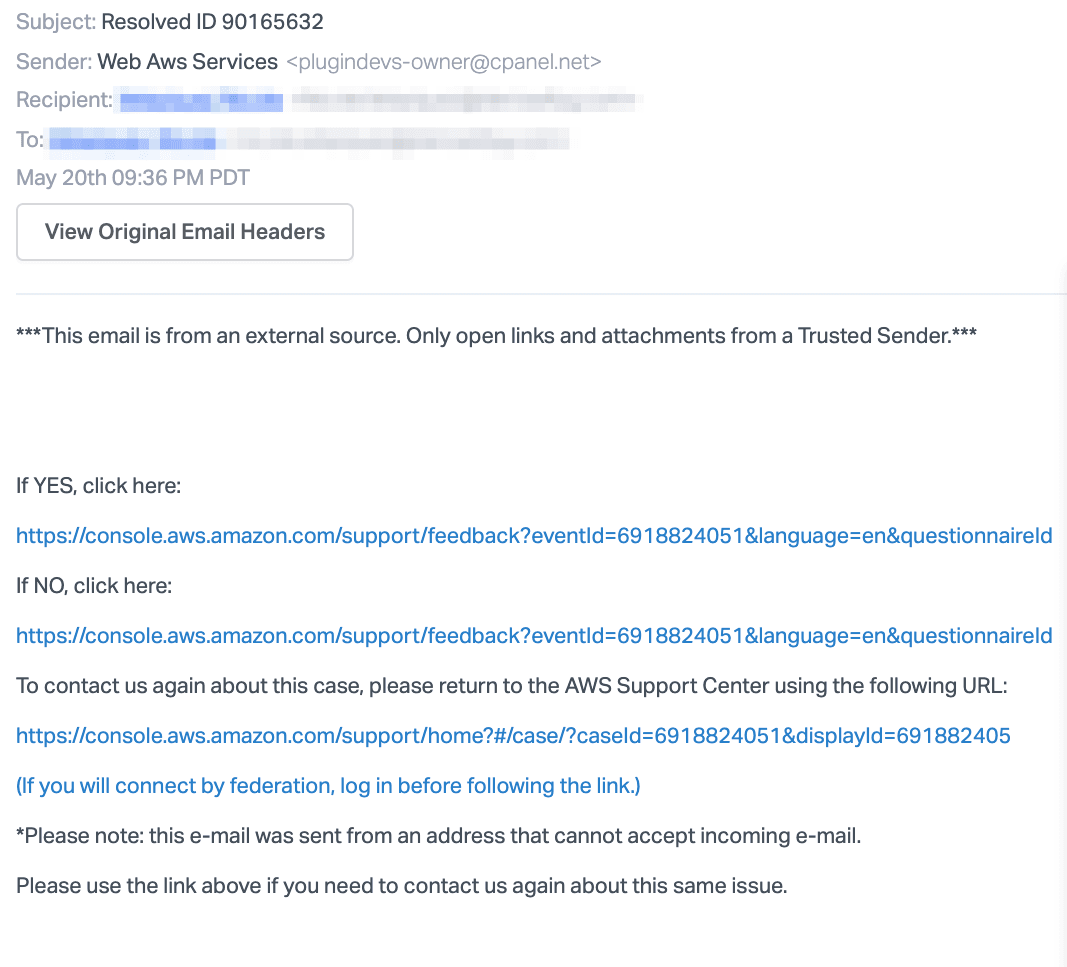 Despite appearing legitimate, the hyperlinks redirect to a different URL that has a webpage identical to the AWS login page but it hosted at athirteen.com, which has no affiliation to Amazon Web Services or the Amazon company.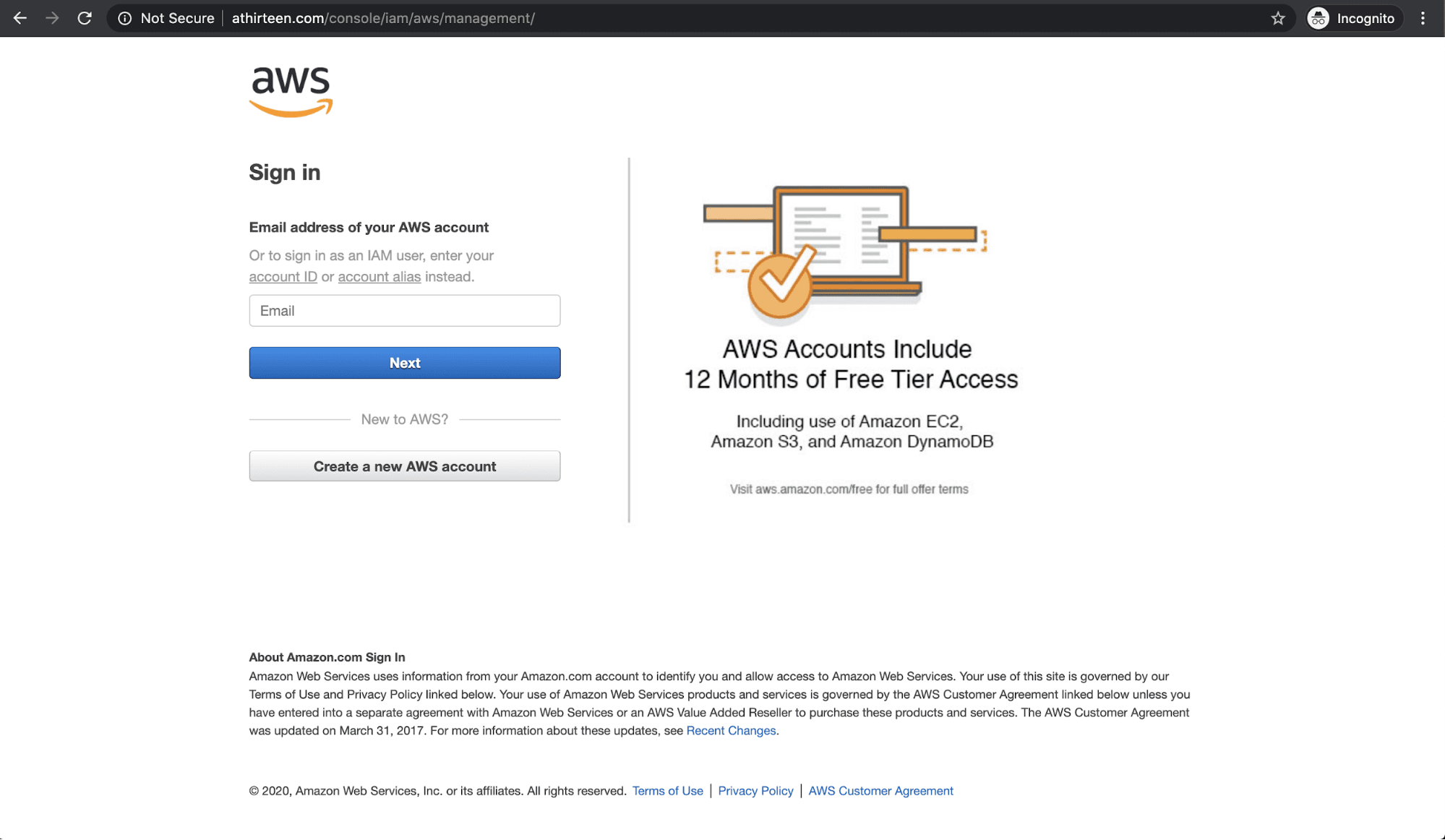 Multiple versions of this attack have been seen across different clients, using different sender emails and different payload links. However, each of the emails from this campaign originates from the same IP, hosted by a French VPN, and each of the payload links employed in this attack leads to AWS credential phishing websites.
If recipients fall victim to this attack, the login credentials for their Amazon Web Services account will be compromised and the sensitive data stored on their account would also be at risk. For organizations who run on AWS, this could have disastrous consequences.
Why the Amazon Web Services Attack is Effective
The attack impersonates Amazon Web Services, and the anchor text used in the email body looked like real Amazon links. In addition, the landing page contains official images used by the company and appeared exactly like the real login page. By hiding the real URL, the user may be unaware that the site they are accessing is not the real AWS page.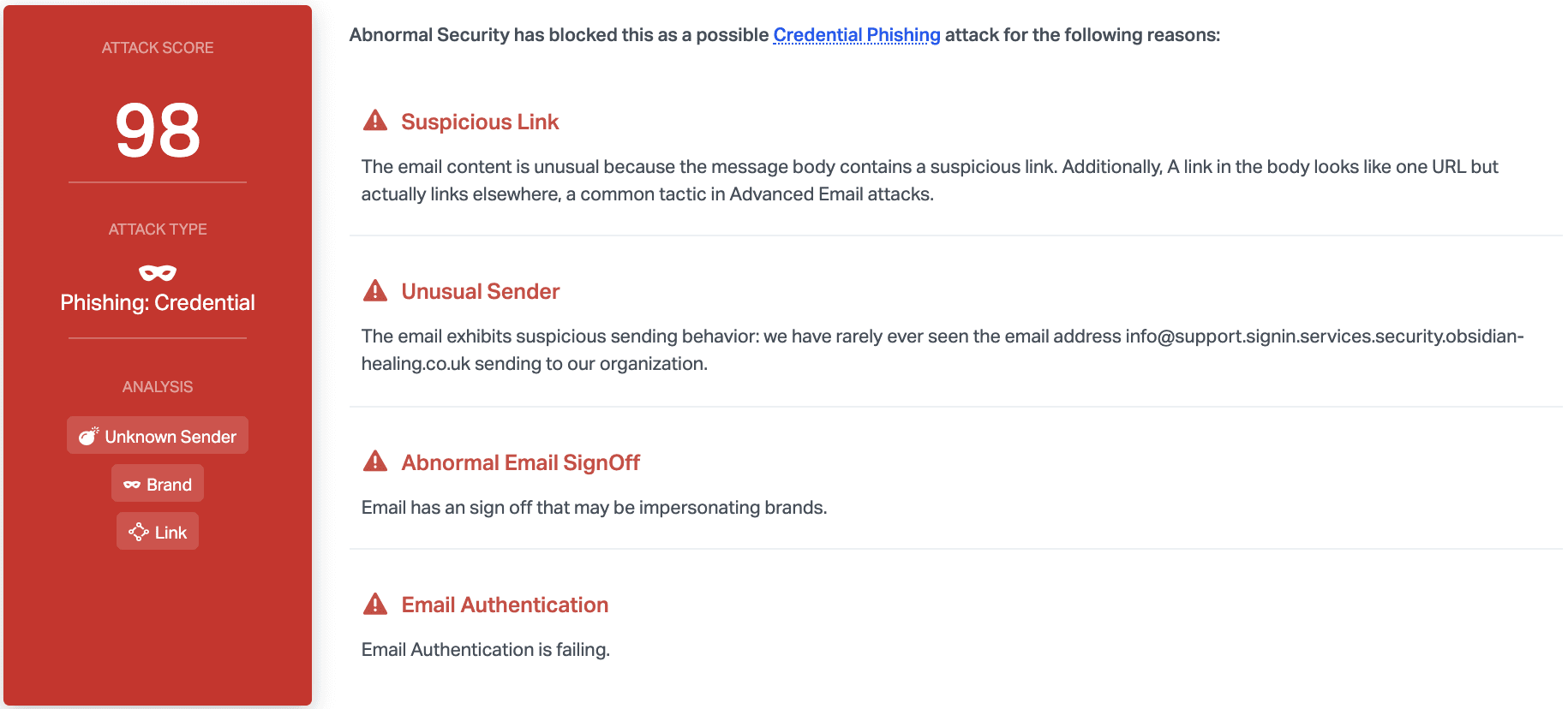 Abnormal detects this attack as malicious due to a variety of factors. The most pertinent one is that DMARC email authentication fails for Amazon, and when combined with the suspicious links, unusual sender behavior, and the content that impersonates a brand, the platform can quickly tell that this email is dangerous.

To see how Abnormal can protect your employees from becoming the next victims of credential phishing, see a demo today.
See the Abnormal Solution to the Email Security Problem
Protect your organization from the attacks that matter most with Abnormal Integrated Cloud Email Security.