Trusted by Global Enterprises
Modern Attacks Are Reaching Inboxes
$2.4B
in losses from socially-engineered attacks in 2021.
2021 IC3 Internet Crime Report
3X
increase in year-over-year ransomware payments.
Chainalysis: 2022 Crypto Crime Report
79%
of Fortune 1000 companies have experienced a compromised account.
Abnormal Data 2022
PROBLEM:
Legacy Solutions Fail to Prevent Modern Attacks
Attackers launch socially-engineered and targeted inbound email attacks that continue to grow in sophistication—evading detection by traditional solutions. They also exploit lax security configurations to carry out new types of email platform attacks that leverage privileged user accounts and third-party applications as entry points into cloud email platforms.
THE SOLUTION:
Abnormal Cloud Email Security
Abnormal learns the behavior of every identity—employee, vendor, application, and email tenant—in your cloud email environment and analyzes the risk of every event to block even the most sophisticated attacks. By understanding what is normal, Abnormal can detect and prevent the malicious and unwanted emails that bypass traditional solutions. The platform also gives visibility into configuration drifts across your cloud email environment, surfacing third-party application misconfigurations, elevated privileges, and other potential risks.
Abnormal Cloud Email Security Platform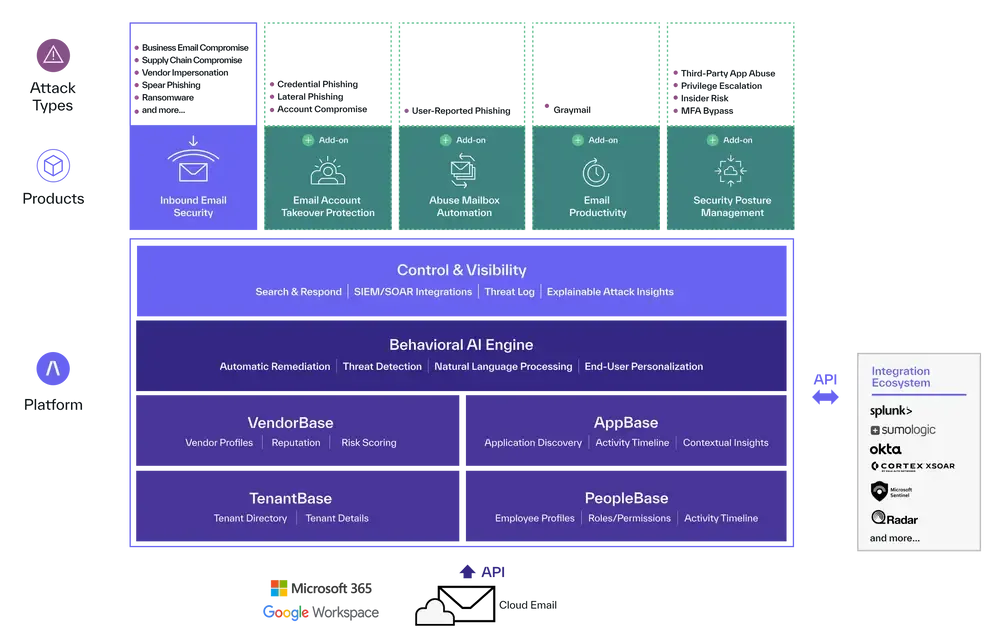 Abnormal protects our executives from individually targeted attack emails that our first line of defense can't catch. Our accounts payable team is safer and more efficient, too. Abnormal stops sophisticated malicious emails before our people ever see them."

Bill Loss, VP for IT Engineering and Technology Services, Everise
What's Next in Your Email Security Journey?
Enhance your email security stack or replace your legacy SEG solution altogether. Abnormal can help.
Supplement Your SEG
Integrate Abnormal into your email infrastructure and instantly start blocking the advanced attacks that your existing solutions are missing.
Displace Your SEG
Eliminate the need for your secure email gateway when you combine Abnormal with the native capabilities of Microsoft 365.
Deeply Integrates With Cloud Security
Microsoft Office 365
Complement native security capabilities with AI-powered behavioral analysis to stop all email-based threats and account takeover attacks.
Google Workspace
Enhance built-in security capabilities with next-generation email security that uses advanced AI detection techniques to stop phishing and account takeover attacks.
See the Abnormal Solution to the Email Security Problem
Protect your organization from the full spectrum of email attacks with Abnormal.