Tighten Security on Your Slack Platform
Secure your messages and keep Slack from becoming an entry point for attackers targeting your organization.
Security Gaps Can Put Your Business at Risk
10M
people use Slack daily, making it a prime target for attacks.
Source: Slack
30%
of security teams struggle to see all security settings for SaaS apps.
Source: Cloud Security Alliance
21%
of breaches resulted from excessive privileges on user accounts.
Source: BeyondTrust
How Abnormal Secures Your Slack Platform
Catches Malicious Messages
Using behavioral AI that baselines user activities and detects deviations, Abnormal monitors messages within Slack—both direct messages and channels—for suspicious or malicious URLs. Once detected, Abnormal alerts security analysts of a potential threat for further investigation.
Discover Email-Like Message Security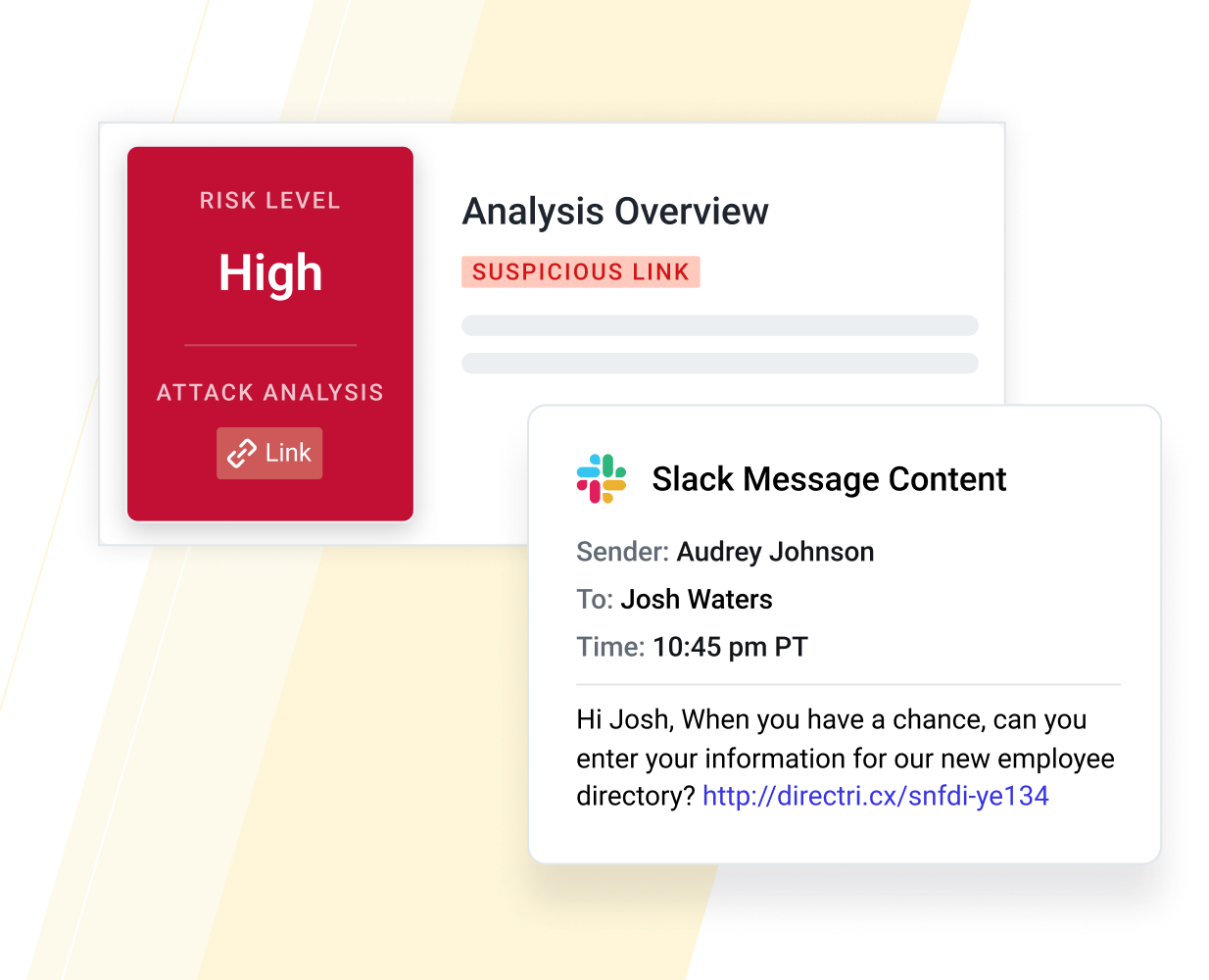 Intercepts Account Takeovers
Abnormal analyzes and identifies typical user sign-in activity across locations, browsers, and authentication methods, and then identifies and surfaces unusual activity that may indicate the compromise of an authenticated account.
Understand Email-Like Account Takeover Protection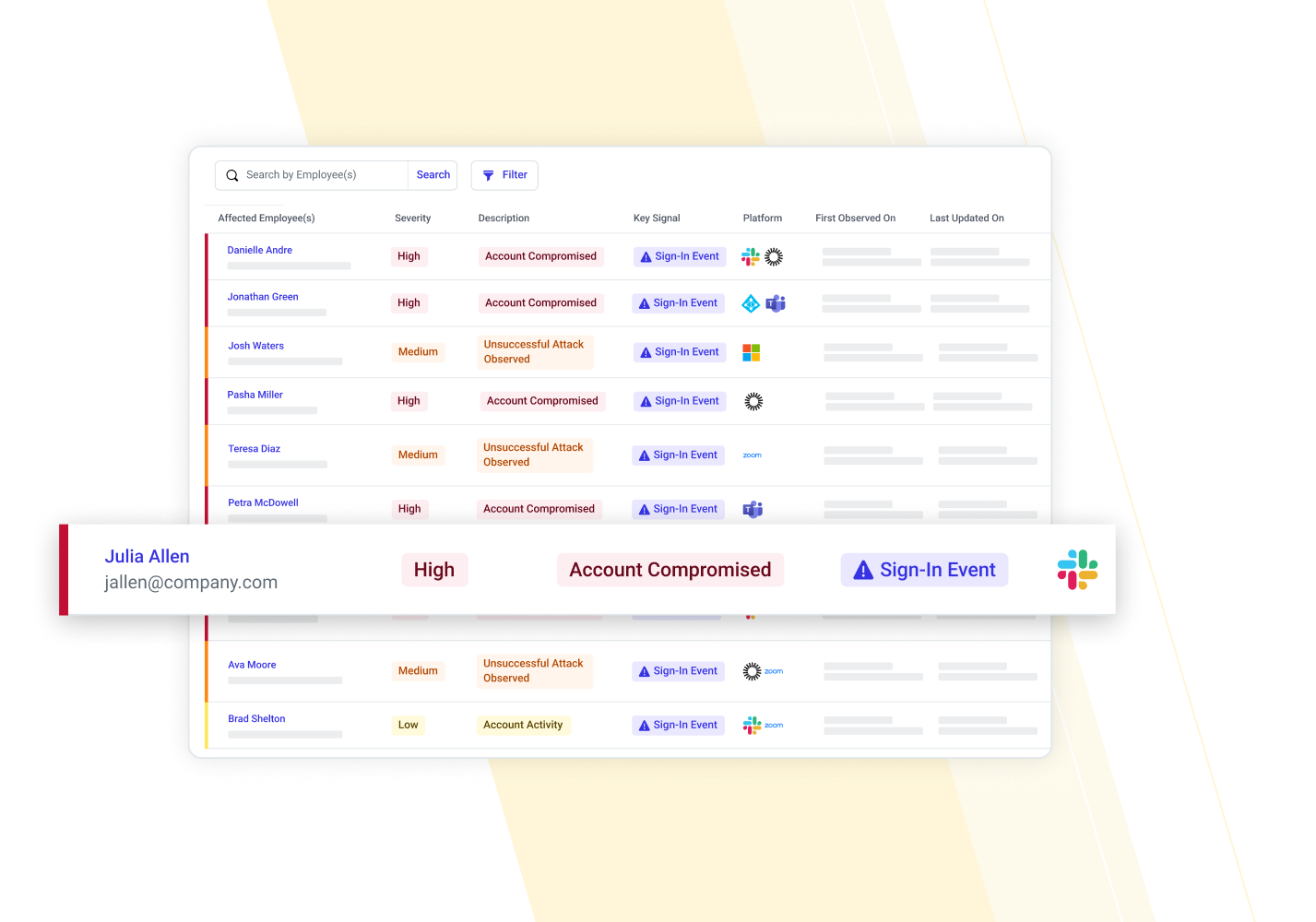 Reduces User Privilege Risks
Abnormal monitors global administrators within Slack and notifies security analysts if any changes occur. It then provides analysts with the right context to support the investigation into a potential threat, as well as the workflows to manage suspicious events.
Discover Email-Like Security Posture Management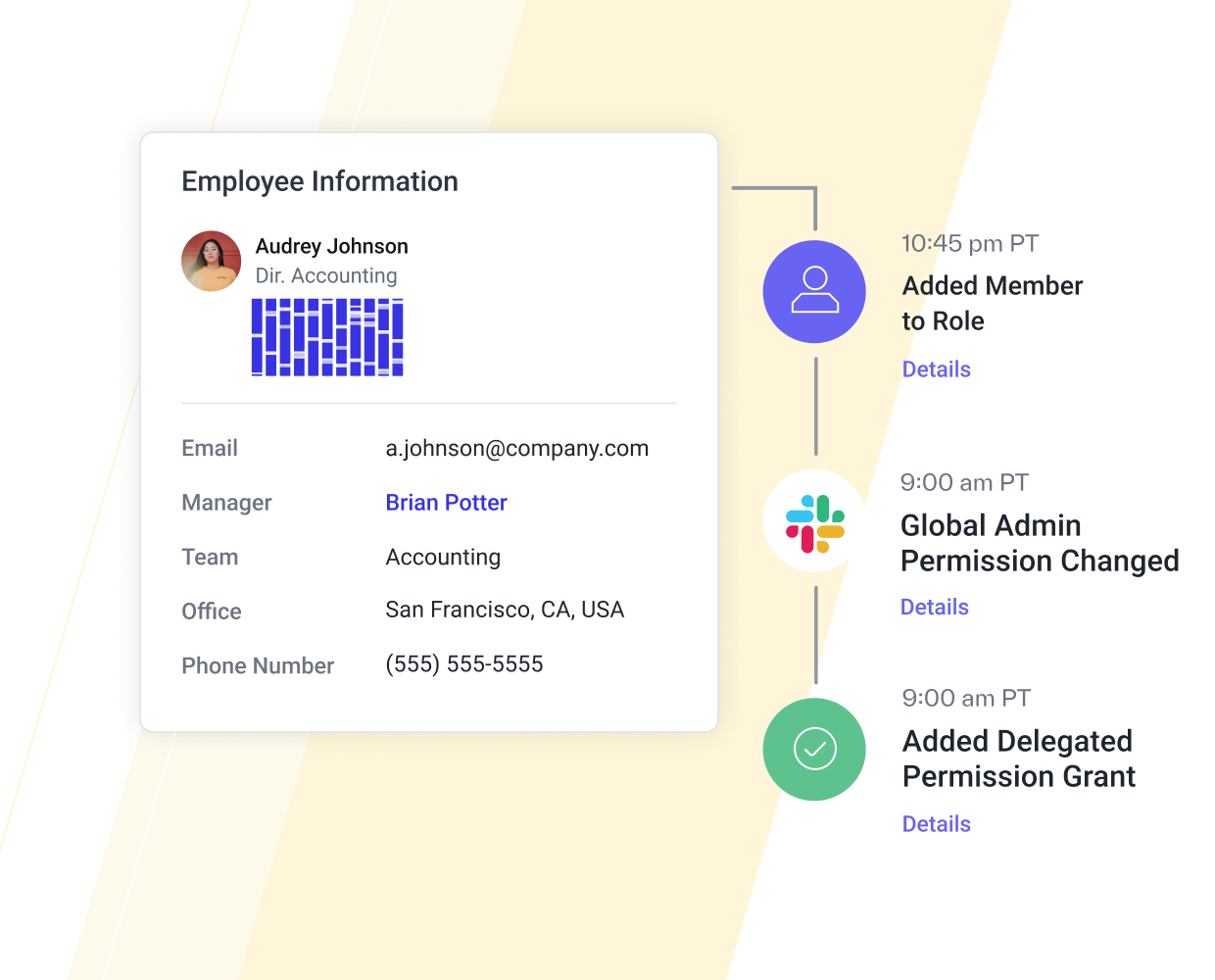 Simple, Effective Security for Slack
High-Efficacy Threat Detection
Confidently identify suspicious URLs, compromised accounts, and user privilege risks.
Insights in One Dashboard
View suspicious activities from Slack in the same pane as those stemming from your email platform.
Rich Context for Attack Investigation
See necessary context to investigate and remediate a potential threat in Slack environment.
Vendors say their integration will be easy and seamless, but we've found that there are usually issues. It was refreshing to see Abnormal actually deliver on that integration promise."
— Mike Freeman, Cybersecurity Manager at Sentara Healthcare
Frequently Asked Questions
"Our executives and Board of Directors are commonly hit with significant amounts of phishing and BEC email attacks. Abnormal's behavioral-based modeling and pattern recognition have been great in detecting and stopping those attacks. We are confident we have the right solution in place."
Gopal Padinjaruveetil, CISO, Auto Club Group-AAA
Detect Signs of Compromise Across Slack
With an AI-based approach to detection, you can catch attacks in your collaboration apps that other solutions miss.