Stop Business Email Compromise Attacks
Prevent sophisticated socially-engineered attacks that lack traditional indicators of compromise and evade secure email gateways.
Product Tour: How Abnormal Detects BEC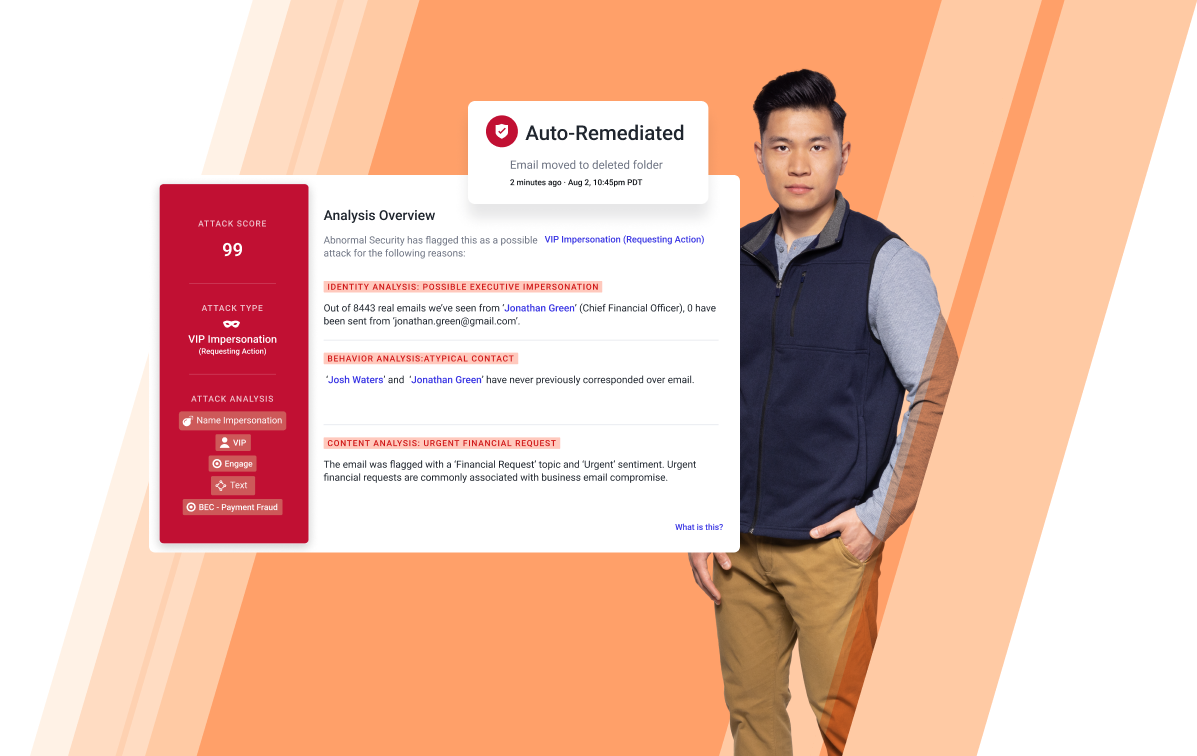 Trusted by Global Enterprises
PROBLEM
Business Email Compromise Attacks are Hard to Detect
BEC attacks are typically text-only emails, sent from a known domain without malicious attachments or suspicious links. They use compromised accounts or lookalike domains to appear legitimate and rely on an urgent tone to trick recipients into completing fraudulent actions.
SOLUTION
How Abnormal Stops Sophisticated BEC Attacks
Analyzes thousands of identity attributes to detect impersonation.
Leverages past communication and relationship patterns to detect behavioral anomalies, even if the email comes from a legitimate domain.
Detects email content and tone patterns that are associated with invoice fraud and other BEC attacks.
WHY ABNORMAL
A Unique Approach to Stopping Business Email Compromise
The API architecture ingests thousands of diverse signals to learn normal sending patterns.
Organized relationship graphs provide rich context on historical communication patterns between identities.
Natural language processing precisely detects content and tone associated with attacks.
Abnormal Benefits of Stopping BEC Attacks
4X
Reduction in BEC threats reaching user inboxes.
400+
BEC attacks stopped for the average customer each year.
15
Hours saved for the Security Operations Center each week.
"Our executives and Board of Directors are commonly hit with significant amounts of phishing and BEC email attacks. Abnormal's behavioral-based modeling and pattern recognition have been great in detecting and stopping those attacks. We are confident we have the right solution in place."
— Tas Jalali, Head of Cybersecurity, AC Transit
Discover How to Stop BEC
See how you can harness advanced behavioral AI to block socially-engineered threats.
Get Inbound Email Security
See the Latest BEC Attacks
View the latest business email compromise attacks blocked by the Abnormal platform.
Watch the BEC Attack Demo
Discover how Abnormal stops these text-only attacks that evade traditional solutions.
See the Abnormal Solution to the BEC Problem
Protect your organization from the full spectrum of email and collaboration application attacks with Abnormal.