DocuSign Impersonated in COVID-19 Phishing Attack
Abnormal Security recently detected a phishing attempt that impersonated a DocuSign notification to steal user credentials.
May 8, 2020
---
DocuSign is a platform that provides secure electronic document signing and is typically used for financial documentation, offer letters, and other secure documents. Of course, this means that important business documents are located within each account. In this attack, cybercriminals impersonate a notification from DocuSign in order to steal those credentials from employees and access the DocuSign account.
Summary of Attack Target
Platform: Microsoft Office 365
Victims: Employees
Payload: Malicious Link
Technique: Impersonation Email
Overview of the DocuSign Impersonation Attack
In this email, the attacker impersonates an automated notification from DocuSign, copying the content used in real emails from this company. The content of the email claims that there is a document sent to the user for review from "CU #COVID19 Electronic Documents", with no further details of what the document contains.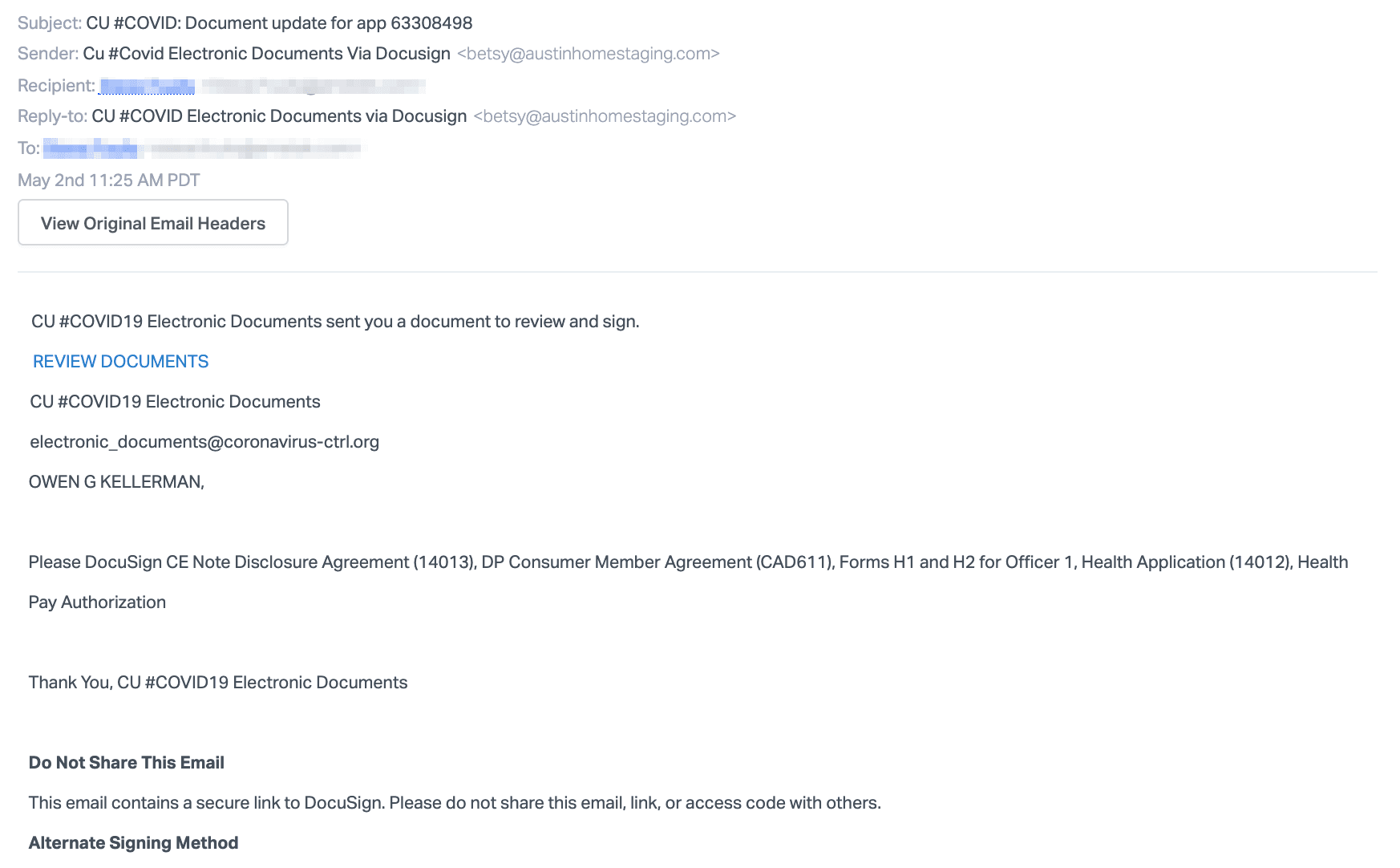 The email itself is very convincing and looks nearly identical to one that a user would expect to receive from DocuSign. The link, however, is malicious. The payload is hosted via three main redirects—the first is a SendGrid redirect, then it redirects to two compromised websites. The attack contains these link redirects in order to confuse the victims and to bypass simple URL detection in emails that are unable to crawl numerous redirects. The final website hosts a fake DocuSign login page to steal user credentials.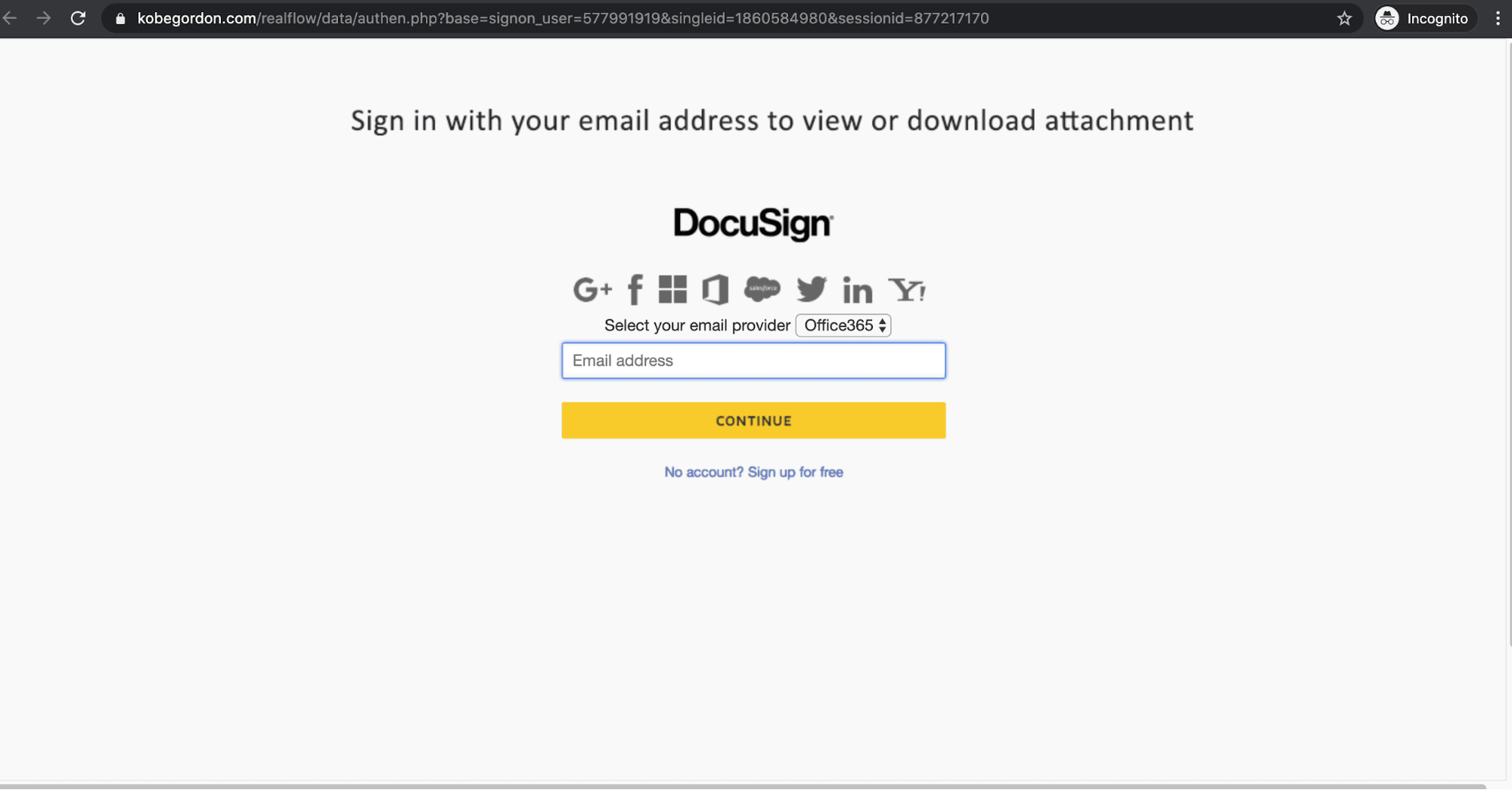 Should recipients fall victim to this attack and input their real DocuSign credentials, their account would be compromised and sensitive information stored on these accounts are at risk as well. For those employees in specific departments like finance and human resources, giving cybercriminals access to this information could be disatorous.

Why the DocuSign Phishing Attack is Effective
We've seen a large increase in COVID-19 related attack campaigns over the past few months as the pandemic continues. In some cases, attackers are launching the same previously seen attacks, with one key difference: coronavirus-related vocabulary. In this case, the attacker is using the current pandemic in order to incite engagement from the target, who may be curious what the new COVID-19 document is about.
In addition, the URL is wrapped in text in the email body, and sent via a SendGrid Link. By hiding the URL, the user must click on the link to figure out where it truly goes, and the final landing page looks like one that you would expect to see from a DocuSign email. Furthermore, the email itself had multiple embedded links, some of which led to authentic DocuSign webpages.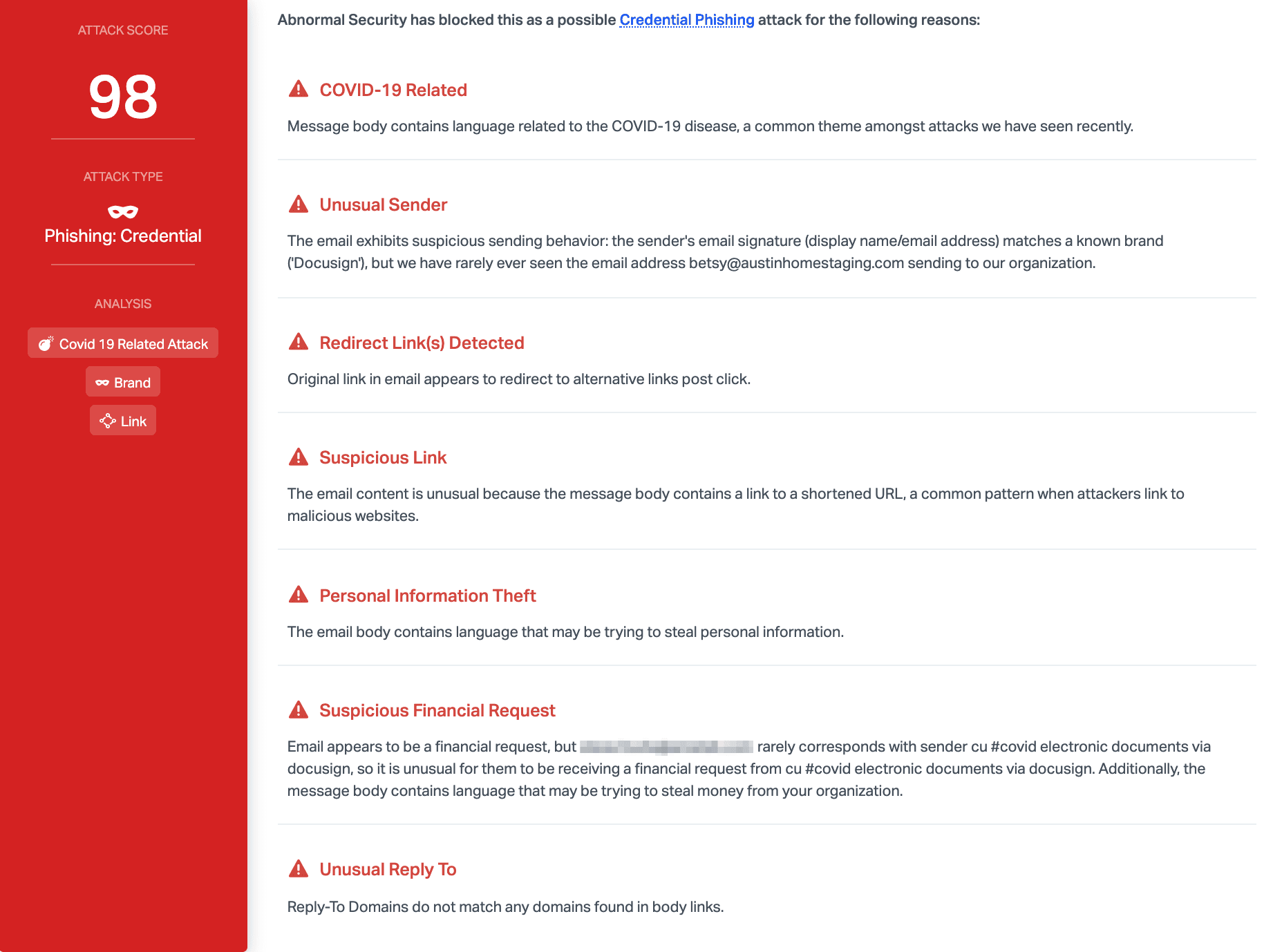 Abnormal detected this attack due to a variety of reasons, including the unusual sender and the multiple redirects. In addition, this user rarely communicates through DocuSign, so it's unusual for them to be receiving documents—especially ones related to COVID-19. Combined with the suspicious links, the unusual reply-to email address, and various other elements, it's clear that this email is malicious and thus, Abnormal blocked it before it reached inboxes.
To learn more about how Abnormal can block malicious credential phishing emails for your organization, see a demo today.
See the Abnormal Solution to the Email Security Problem
Protect your organization from the full spectrum of email attacks with Abnormal.
Related Posts