Get a Personalized Email Security Risk Assessment
Large University Discovered
112,000
BEC Attacks
Tax Preparation Company Caught
208
Malware Attacks
Consulting Firm Uncovered
203
Unsafe Engagements
Electronics Manufacturer Caught
$500,000
in Invoice Fraud
Receive Customized Insights
Abnormal Security stops business email compromise, credential phishing, supply chain compromise, ransomware, and other modern email attacks before they reach your inbox. Our free risk assessment gives you personalized insight into how we do it.
Install in minutes with one-click integration
Implement the read-only solution with no impact to your existing email infrastructure or mail flow
Access the entire product to see Abnormal in action
Receive a customized report within one week, showing you the attacks that are currently in your inboxes
The Abnormal Risk Assessment is a free, fast, and an easy way to test our cloud email security solution. Answer a few questions to get started.
It's Simple
With our read-only API integration, we analyze your existing email framework for potential security threats. Witin a week of the risk assessment, we give you a custom report that outlines your current vulnerabilities—and what you'll likely see in the future.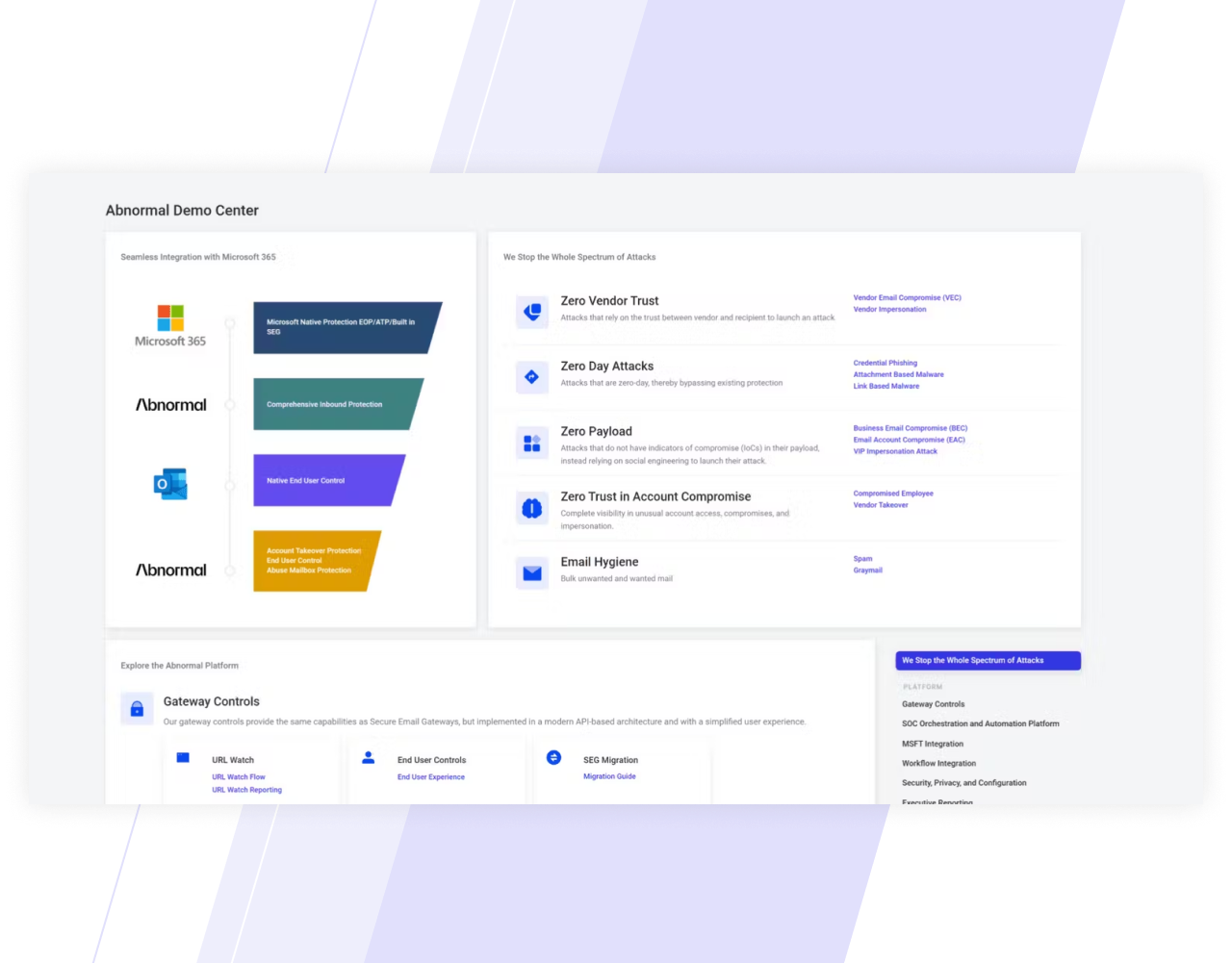 It's Fast
The risk assessment only takes 15 minutes to set up with your email environment:
We integrate our API directly into your existing email flow in minutes with a one-click set up.
Our API works seamlessly with Microsoft 365 and Google Workspace without disrupting mail flow.
You don't need to change your MX record or policies. Simply integrate and wait for the report from your Abnormal team.
It's Informative
Once our API is fully integrated, we'll begin to analyze your email data to uncover potential weaknesses and attack points. We assess your current email environment based on 45,000+ threat signals in order to assess your risk. And while we create your risk assessment report, you can access the user dashboard to live the Abnormal customer experience.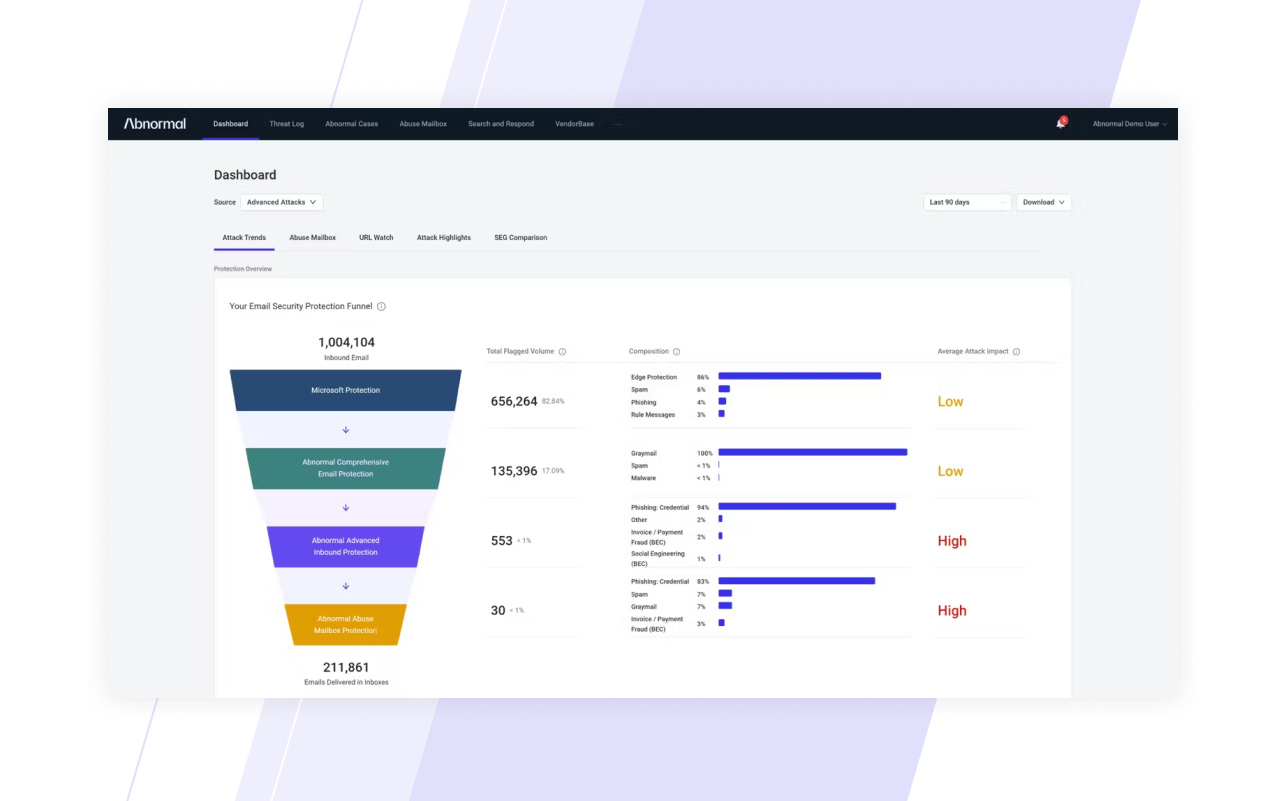 It's Comprehensive
Your risk assessment includes insight into attack highlights, vendor risk levels, and compromised accounts. Your report includes an overview of:
The number of advanced attacks sitting in your end-user inboxes
The risk level presented by each of your vendors
Which email accounts within your environment may be compromised
With full insight into what is bypassing your current email security infrastructure, you can take action to prevent them moving forward.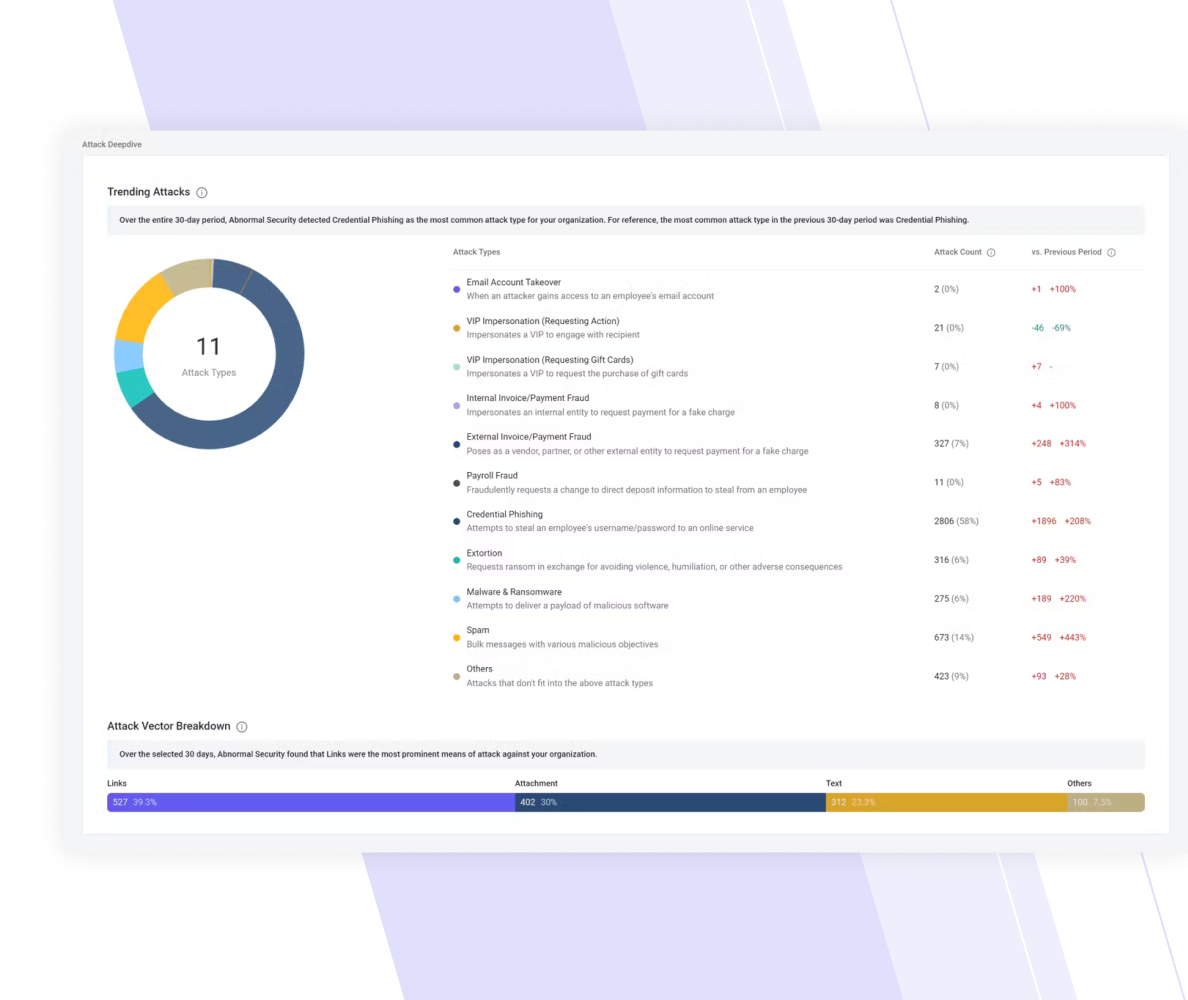 Why You Should Get a Risk Assessment
Abnormal offers the highest-precision protection from the attacks that matter most. Our email risk assessment is personalized proof of the value we offer. It's free, fast, and an easy way to test our cloud email security solution.
Trusted by Global Enterprises