Brian Krebs has been one of the most well-known names in the industry over the last decade. Since starting at The Washington Post, Brian has been responsible for breaking stories on high-profile data breaches and exposing the inner workings of cybercriminal actors. Now, he operates KrebsOnSecurity.com, where information security professionals like myself go for details on the latest cyber threats.
He's truly a legend in the cybersecurity space, which is why I'm so thrilled to be speaking with him next week during a webinar on the attacks that matter most in the email space. If you're interested in hearing from the true expert in security, plan to join us for a live-only webinar on Thursday, March 17th at 1:00 pm ET.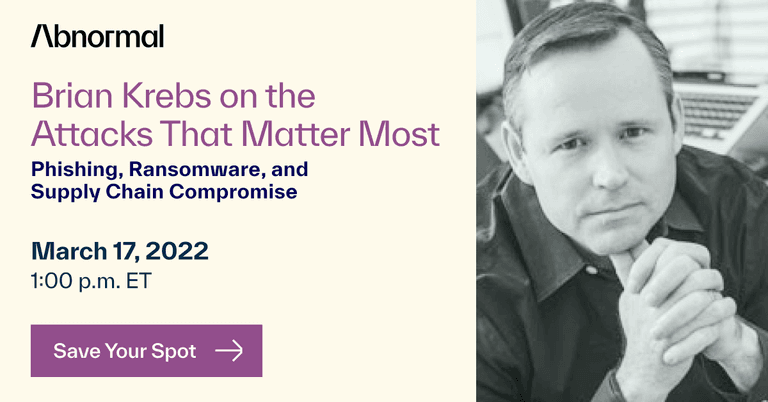 Highly-Targeted Attacks Could Target You
Throughout the last decade, threat actors have moved from high-volume, low-impact attacks like spam and credit card phishing to more highly-targeted, high-value attacks like business email compromise and supply chain fraud. They impersonate your executives, hijack existing conversations, convince your finance team to pay fake invoices, and more. And the bad news is that it's just getting started.
These attacks account for billions of dollars lost each year. While much lower in volume than traditional spam messages, these attacks are much more dangerous—not only due to their nature but also because they bypass traditional security tools like the secure email gateway. Once they enter user inboxes, they can wreak havoc as the victims send wire transfers, buy gift cards, or provide sensitive data to the attackers.

Hear the Krebs Perspective
Next week, Brian Krebs and I will be discussing these exact topics, alongside his predictions on what could happen next in the threat landscape. As cybercriminals shift their tactics, individuals and organizations alike should be prepared to defend themselves against attack. Join us for the webinar to hear how these modern attacks are evolving and what Brian Krebs thinks you need to know in order to defend against them.
Register now and be sure to attend live on March 17th, as this session will not be recorded. We'll see you there!
0
See the Abnormal Solution to the Email Security Problem
Protect your organization from the attacks that matter most with Abnormal Integrated Cloud Email Security.